DIVERGENT Countdown
With only 5 weeks before the opening of DIVERGENT on
March 21
look out for new content, giveaways and features every week. Follow @Divergent on Twitter for daily updates.
In the world of DIVERGENT there are five factions that each represent a different virtue of society – selflessness (Abnegation), peacefulness (Amity), honesty (Candor), intelligence (Erudite) and bravery (Dauntless). Each week will celebrate a different faction, with exclusive content, news & features that represent that faction's virtue: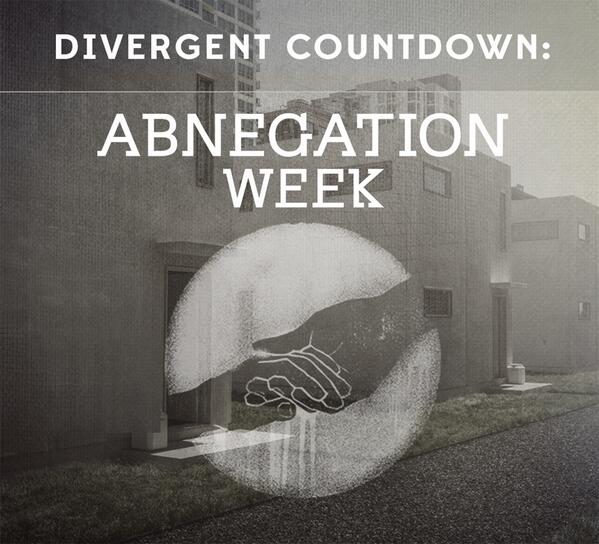 ABNEGATION Week (2/18 – 2/22)
The "selfless" faction presents a week of giveaways for tickets to the world premiere of DIVERGENT.
Yahoo! Movies (Wednesday, Feb. 19)
Fandango (
Thursday, Feb. 20
)
MovieTickets (
Friday, Feb. 21
)
Moviefone (
Saturday Feb. 22
)
Upcoming weeks will also feature some amazing things...
AMITY Week (2/24 – 2/28)
The "peaceful" faction presents a week of exclusive content from official DIVERGENT soundtrack.
CANDOR Week (3/3 – 3/7)
The "honest" faction presents exclusive Q&As with DIVERGENT cast members.
ERUDITE Week (3/10 – 3/14)
The "intelligent" faction presents exclusive guest blogs by DIVERGENT filmmakers.
DAUNTLESS Week (3/17 – 3/21)
The "brave" faction presents a week of daring surprises.
Are you excited? I know I sure am... more details coming soon - but stay tuned!!