The new CW show The Secret Circle premiered last night and I thought it was really great.
Written by the same author of The Vampire Diaries, L.J. Smith has another great series turned television show.
The show follows Cassie, played by Brittany Robertson, who is no stranger to Vancouver after filming Life Unexpected here, after her mother dies and she must move in with her grandma. The town is filled with witch teens, who's parents used to practice magic until there was a terrible accident, so now the teens practice in secret.
Gale Harold, Brian Kinney from Queer as Folk and more recently Hellcats (another Vancouver filmed, and canceled show) is one adult who seems "in" on the current practice of magic and within the first few minutes, make that seconds, of the pilot, shows himself to be a "bad guy" by using magic to kill Cassie's mother, forcing Cassie to move to her grandmothers and, after learning about her magic skills, joining, or completeing "the circle"
The pilot was awesome, I loved Phoebe Tonkin as the bad girl and of course Thomas Dekker as the "heart throb"
I am excites to see where this show goes and glad they kept it in Vancouver (unlike The Vampire Diaries, who moved to ATL after filming the pilot in Vancouver)
Like all Vancouver shows, I recognize sets and although I did not go to any, I wanted to share where they were.
Here are sets from the Pilot, if you know more feel free to add them in the comments:
Moncton St Steveston, BC
Town Shots, like this one when Gale Harold's character meets Brittany Robertson's character (did you know off-screen these two have been spotted hanging out a few times?) are filmed in Steveston (Richmond BC) The address on the building tells us it is 3580 Moncton
Boathouse Restaurant
There are multiple locations for the Boathouse, but since much of the filming was in Steveston, BC, I would assume the one we see in the pilot is the one in Richmond. (8331 River Road)
The abandoned house (Where they tell Cassie she is a witch) LOOKED like one in Langley I know Supernatural has used, but given the amount of filming in Richmond, I imagine they found an old house there to use, though I would need to see more of it to be sure. Though this still of them inside was probably studio, as many interiors are, but you never know.
Cleavland Dam
When Cassie runs away from the old house, after being told she is a witch, Adam catches up with her and together they chant "drop of water, light as air"
Sockeye City Grill was spotted in the ending scene when Faye summons the rain and a massive storm erupts. (3780 Bayview Street, Steveston)
The highschool scenes were filmed at Kitsalano High School.
I had been told they were at Point Grey Secondary for the pilot (but that is incorrect) and then switched to Templeton after the pilot (Where a number of shows and movies film, including Diary of a Wimpy Kid 3 a few weeks ago) So I am not sure if/where they moved after the pilot, I will watch future shows and see.
But the pilot was DEFINATELY Kitsalano High School as you can see in this photo of "Chance Harbor"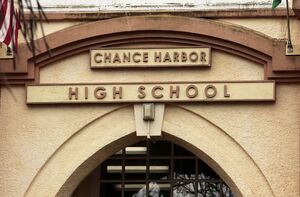 The fishing town and docks were also done in Steveston.
There were some scenes filmed along the water near Finn Slough.
That's it so far. I know I am loving this show, so perhaps I will try to post more locations and maybe even visit one at some point.