Thank God For
Robsessed
I felt alone in my odd focus on Edward's left nipple during the Clock-Tower scene of New Moon.

Does he have one extra hairy nipple?

Why wouldn't them *ahem* fix that?

Luckily Robsessed examines this very issue - - - here are some thoughts...


The tear in his shirt led to a scar....
Problem is I don't see excessive sparkling causing a scar....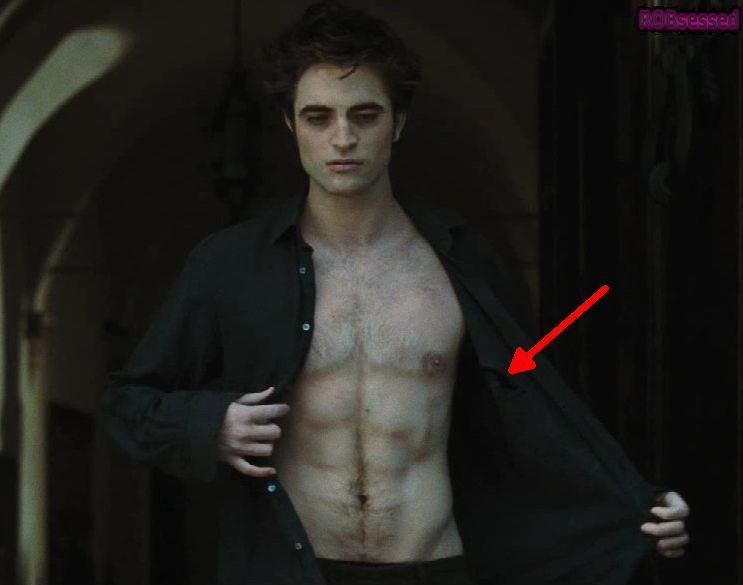 Plus, it's a different shape than the tear and slightly off location of the shirt tear.. it doesn't add up....
Perhaps a vampire bite - which does leave a scar?


Robsessed wrote:

My explanation for the "bite mark" was: Some horny woman jumped him while he was away moping for Bella and she tried to bite his mipple :)

When we thought we solved it with the crazy horny lady theory: "@bucaticadinmine: am I the only one who thinks this doesn't makes sense? nothing harms vampires so what caused that scar?"

I was shame faced at not thinking of that but @TweetsALittle and lroy6 had the answer: Vampire bites/venom can cause scars on other vamps! Remember Jasper has lots of them from battle!

Great! So he got into fights with some vamps and they bit his mipple! Naughty naughty vamps! But still, what if the wonky mipple belongs to Robert Pattinson and not Robward Cullenson? Oh the horror!


Surely, the unedited version shows a normal nip...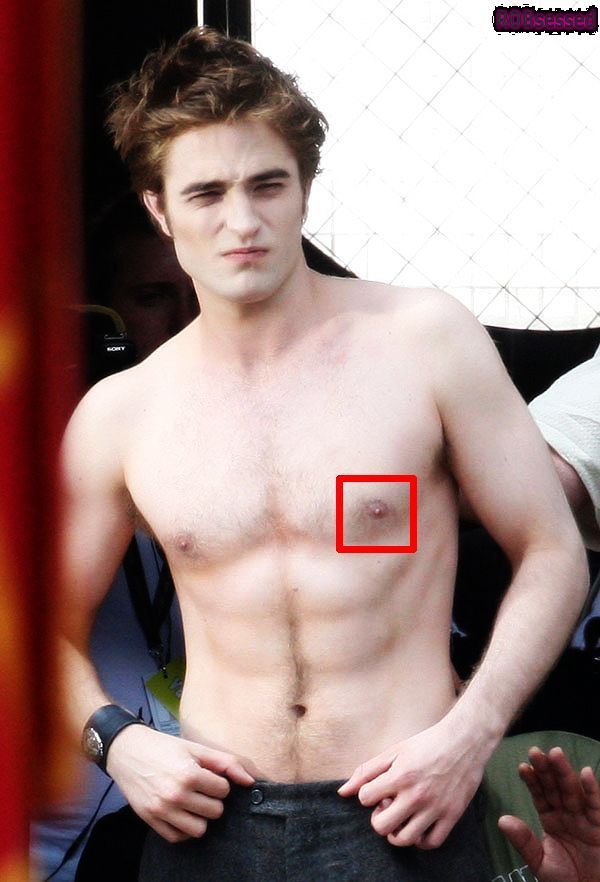 The same normal nip he's always had

Thanks so much to Robsessed for examining MIPPLE-GATE 2009.... Glad it's not Robert Pattinson's nipple issue and just Edward Cullen's, However, I'd like to know who bit his nip - - Tanya maybe? or... me... I mean .. er... hmmm....