Saturday, October 9, 2010
Kristen Stewart was confident and beautiful on Leno last night:

See more Here.
Posted by

Mandy's Mind
at 2:47 PM
No comments: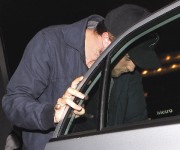 More at TwiFans
Posted by

Mandy's Mind
at 2:36 PM
No comments:



The 24-year-old Oscar nominated actress opens up about how Scott Pilgrim parallels her life, being vulnerable like Catherine and Jessica being a "weirdo."


On Scott Pilgrim vs. The World: "I didn't realize it until I started doing press. but I'm completely playing myself. Like, I didn't do anything to work on this because I know this role, I know who she is. Done and done. Stacey tries to reach out to Scott and say, 'You know I'm here for you,' and then right back into, 'Well, your hair looks stupid or whatever.' And that's exactly the way my relationship is with my brother—you can only go so far before you call him a d-bag."


On who she channeled for Jessica Stanley: "I don't know who exactly Jessica comes from, but there was one girl in particular from my high school. And she was a nightmare and was a little weirdo."


On her next movie, Live With It: "Catherine is much more vulnerable [than other roles I've played]. And I liked that about her because I was in an awards season labyrinth and I was feeling really vulnerable so I was happy to go and shoot that immediately."

More at Flaunt Magazine.


[Source]
Posted by

Mandy's Mind
at 9:47 AM
No comments:


Friday, October 8, 2010
One of the reasons I booked my trip to NOLA was to go to NOFF because the opening movie is WTTR - - -


Posted by

Mandy's Mind
at 2:54 PM
No comments:


Day 4 - how we survived this weekend is beyond me!
Last day in Portland and we enjoyed the speakers.

I did my panel on "When Twilight Came to Town" and showed a slide show of photos from sets from New Moon and Eclipse.

It was a busy but fun weekend but it was time to head out.



We did stop off to see Solomon Trimble, who was Sam in the first Twilight movie. He is friends with my travelmate and so we went to see him and his family and had a delicious dinner together. After he insisted we try Voodoo Doughnuts so we went and there was a line around the block!



Then we hit the road for our long long long drive home.

It was a busy but exciting weekend.

I will post on the individual panels later including Q&A with the cast who attended the convention.
Posted by

Mandy's Mind
at 6:21 AM
1 comment:


Thursday, October 7, 2010

Just in time for Halloween.... mwahahahahaha

You can DOwnload drink labels here and print them for your own bottles.


[Source]
Posted by

Mandy's Mind
at 10:29 PM
No comments:


We woke up early to go on Catherine Hardwicke's set tour.

It was nice because I was sitting right near Catherine and got a lot of time to chat with her about various things.

We went to various sets and it was so interesting to hear Catherine tell us tales of filming. Even people who had been to these sets before said they loved hearing Catherine's stories about filming. Very Exciting!

There was a lot of re-enacting scenes ;)



Catherine talked about how they added the wood paneling and photos because the walls were white which isn't good in films.



"Say it.... out loud"



Cullen House



We returned back to the hotel and had some lunch.

We missed a few speakers at the convention because we needed food and rest and to change.

We did catch some speakers luckily!


http://sphotos.ak.fbcdn.net/hphotos-ak-ash2/hs148.ash2/40757_1293870125879_1804098740_568286_6769892_n.jpg" width=400>

I helped out with the convention backstage and had some interesting jobs that allowed me to get to meet the cast again. I opted for professionalism over fangirling because #1 - I had met them before so didn't hagve that fangirl urge and #2 - I really enjoy event planning and helping out conventions is something I would like to do more of so fangirling wouldn't be a good way to do that.

That evening we had the volturi ball...



We witnessed an epic dance off



Candace Charee' performed



Chicken Dance



That night a few went to the bar. I walked to the bar and then once I knew everyone was there safe and sound (it is easy to get lost in Portland while walking via gps ha ha) I went back to the hotel and crashed HARD!

Another long but exciting day!!

MOre on my facebook - Mandy S Mind - malicious.mandy@hotmail.com
Posted by

Mandy's Mind
at 8:06 PM
2 comments:


I woke up Day 2 in Forks and I was NOT feeling well. I had def. over drank the night before and after some time (including showering and hurling) I felt good.
We went for breakfast and then did a tour of Forks.

Then we went to La Push baby, La Push



We had a long drive ahead of us so we headed South for Astoria.



The Oregon Coast is beautiful!!



We got into Astoria just before nightfall and got some photos at the Goonies locations....



We got into Portland at 9:30pm - it felt like forever on the road.... maybe it was. We arrived just in time for Creation's Twilight Convention Karaoke with Kiowa and Bronson.



That night we all went to a club called DIRTY - - - it was... interesting!

There were poles, we danced on them.

There was VIP, we hung out in there.

There were drinks, we drank them.

Overall it was a wild time with some cool people.

A group of us all walked back to the hotel together.

I had a shower and when I came out another 5 people were in my room because my dear roomie announced I had vodka LOL

Finally people cleared out and I fell asleep after one of the longest days of my life!
Posted by

Mandy's Mind
at 3:05 PM
2 comments: