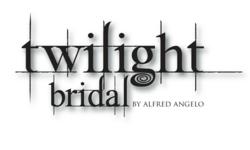 Alfred Angelo has been named the exclusive and official licensed manufacturer of Bella's bridal gown...

The gown will be a replica of the wedding dress worn by Kristen Stewart in THE TWILIGHT SAGA: BREAKING DAWN – PART 1. It will be priced in line with Alfred Angelo's popular bridal collection, and available in sizes 0 to 30W to fit every Twilight bride.

I know a few people getting married this summer and fall that are probably begging their fiance's to reschedule the wedding in order to wear one of these ;) ha ha!
I predict it will be a major seller... I also predict, if I had the money I would buy one to just wear around.... I can see someone wearing it at the costume contest at Creation's Twilight Convention also.... oh the opportunities to wear this dress are endless and not just for your wedding ;) ha ha