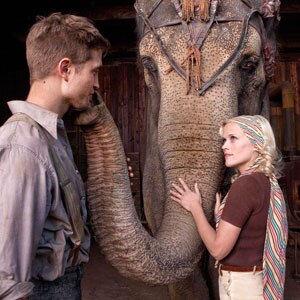 Yesterday the animal activist organization Animal Defenders International (ADI) filed a lawsuit, along with a few civilians, against Tai's trainers at Have Trunk Will Travel.

So what exactly does the lawsuit claim about how our favorite Water for Elephants costar learned to do circus tricks in her scene-stealing role as Reese and Robert Pattinson's beloved Rosie?

"The suit is about assurances given to the public that the elephant Tai was trained with kindness for her role in Water for Elephants," reads a press release from Animal Defenders International. "Video footage released by ADI showed Tai and other elephants being electric shocked with a stun gun and jabbed and hit will bull hooks during her training for the same types of tricks seen in the movie, at the Perris, CA ranch of Have Trunk Will Travel."

More...

And although reps for Have Trunk Will Travel have stated that the training facility "does not condone using electrical devices to discipline and control elephants except in situations where elephant or human safety is at risk," a home video was leaked that seemed to show Tai being given electric shocks and being beaten to get her to perform tricks.

Since California law dictates that animal abuse lawsuits need to be brought to attention within a year of the alleged mistreatment, unfortunately, no one depicted in the incriminating 2005 footage could be found criminally responsible for their actions.

Instead, ADI is claiming that Have Trunk Will Travel "defrauded" and "duped" the public by luring them into the false sense of security that Tai had been treated kindly during her training for the film.

Another organization, the Animal Legal Defense Fund, has also jumped on the save-the-elephants bandwagon. Last Thursday, it announced that it is offering a $10,000 reward for any leads regarding elephant abuse during production of a film or TV program.

Executive director for ALDF, Stephen Wells, commented: "The glamour of the big screen and television productions belies the suffering of elephants forced to perform on Hollywood sets. Elephants are wild animals, not actors, and the barbaric techniques routinely used to force elephants to learn tricks can qualify as abuse under California law."

But now that Tai's career has skyrocketed, this elephant ain't slowing down! Tai can be seen next in Zookeeper with Kevin James, which is set to be released next week.

Let's just hope that Kevin is as sweet to his animal costars as R.Pattz is.
[
Source
]