So I was asked on twitter about the new interview where Kristen Stewart refers to Robert Pattinson as her "fucking boyfriend"
News to me, but I have been emerged in real life lately and thought I either missed it somehow (who misses news THAT big, they NEVER openly talk about their relationship) or it was just another random rumour/hope/dream of the Robsten clan (I agree they are together - I just don't see them discussing it openly, why would they? In fact, I don't even WANT them to win best kiss for MTV awards because I can't endure another game of how not to kiss when they win... moving on...)
I found the interview.... it is real... She is looking at books on a shelf and talking about them and then...
"Oooh, Martin Amis." Stewart plucks Money from the shelf. "My copy just got soaked – my toilet overflowed." And then, "Oh my God, my fucking boyfriend just did this movie," she says, referring to Robert Pattinson while pulling down a copy of Bel Ami. "The French, they're up in arms that he did it."
ha ha awesome, but until a sex tape leaks - I won't be impressed ;)
Still it is intriguing that she is finally starting to "break" the silence.... here is another interesting excerpt:
Stewart taps her hands on the steering wheel, her short nails lacquered in bloodred. On her thumb is a silver spoon ring. "All four of my brothers and my mom and dad have these," she says. "My mom went and got them for Christmas." And the gold ring circling her index finger? "Everyone wants to know," Stewart says slyly. She shakes her head. "Everyone knows already – it's ridiculous." As painful as it is to be so publicly pushed and prodded, how does she square wanting to be projected on a 40-foot screen? "Laurence Olivier was asked, 'Actors, what's the impulse? Why?' And he was just like, 'Look at me, look at me, look at me, …' That was his answer. But at the same time, it's like, 'Nooo, don't look at me. Look at some version that I'm going to present to you. Let me control it."
Anyways - here are more scans and below the entire article/interview written.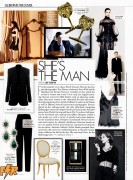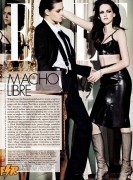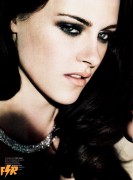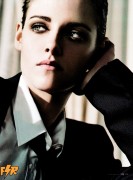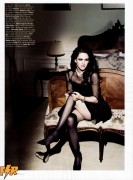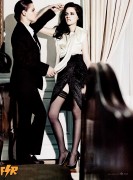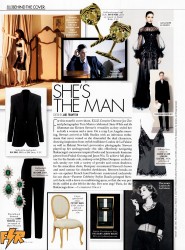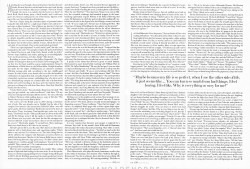 Transcipt:
Winding her way through a forest of dead trees that have become books, Kristen Stewart is on the hunt for her next read, having just devoured Alberto Moravia's Contempt: "I loved it. Funny though, the movie is a comedy, but the book is so down." In black Keds, black skinny jeans, a dark hoodie, and a well-worn green tee, Stewart could pass for one of the literary hipsters working in this cozy Sunset Boulevard bookstore.
She runs a finger along the countless spines of potential suitors lining the tall, dark shelves – a tight maze of plot twitsts and turns – and stops at John Steinbeck. "East of Eden is my favorite, it's big, and then Cannery Row. I've read them all." Nestled next to Steinbeck is William Styron. "Have you ever read Lie Down in Darkness?" Stewart asks excitedly. "I want to play Peyton more than anything I can possibly taste or touch in my life. I want to play her so bad. Peyton is bright, beautiful, suicidal narcissist, preyed upon by her father. But Stewart, 22, sees it as more complicated than that. "Oh, dude, she fuckin' loves it! She's in love with him. I mean, I think she's in love with him. It's not his fault. They're the most fucked-up family!"
More...



"There's a script adaptation I've read and it's good," she says, continuing down the aisle. "Two people vying for the part of the father are Daniel Day-Lewis and Colin Firth. Daniel would be perfect." Stewart stops suddenly and smiles, picking up an autobiography. "Let's not be pretentious – let's buy Snooki." (She doesn't.)

Rounding a corner, Stewart taps Jeffery Eugenides' The Virgin Suicides. "I fucking love that movie so much. I love teenage girls." To say that they love her back would be a gross understatement. Stewart's embodiment of Bella Swan in the billion-dollar Twilight franchise has made her the object of Bellamania, an obsessive condition afflicting teenage girls and, according to the star, middle-aged women. In other words, every female who's ever felt the breathless exhaultation of unguarded, mad, sexually-charged 4-ever love with a beautiful, mysterious, intense, withholding boy who turns out to be a bloodsucking vampire on a limited diet with a dysfunctional family and wolves howling at his door, and who requires that you give up everything to be with him. Been there. Done that. Read the books. Saw the movies.

"Oooh, Martin Amis." Stewart plucks Money from the shelf. "My copy just got soaked – my toilet overflowed." And then, "Oh my God, my fucking boyfriend just did this movie," she says, referring to Robert Pattinson while pulling down a copy of Bel Ami. "The French, they're up in arms that he did it."

The actress met the British actor in 2007 during a chemistry test of sorts. She was already cast in Twilight, but the role of her vampire love interest – the eternal teen Edward Cullen – was still up for grabs. Director Catherine Hardwicke narrowed it down to four actors. "Every two hours, I had another guy come over to my house," Hardwicke recalls. "Rob and Kristen sat down at the table and did the biology scene. I felt the sparks. I could see the attraction. Kristen was very vocal – she knew she had the strongest connection with Rob. I said 'Let me have a day to see if it translates to screen.'" Hardwicke laughs. "I warned him. 'She's underage, don't even think about it! It's a law in our country.''

Stewart's private life is a no-fly zone. She's known to shoot down inquiries with a death-beam stare and vaporizing replies. What's there to say, anyway? It is whatever it is. The irony being that for all the alchemy she conjures with Pattinson on screen, there's an underlying disconnect. Maybe it's the bizarre Bella brown contact lenses obscuring Stewart's sage green eyes. ("It's like I always have sunglasses on – soulless, googly-eyed sunglasses. You can't feel your eyeballs. They ruined me.") Or a subconscious refusal to lay bare her personal life for public consumption.

She's far more emotionally exposed in her smaller films, casting prisms of light and dark feelings at the same time. It was her performance as a lonely, longing, falling-in-love teenager living off the grid in 2007's Into the Wild that announced the much-needed arrival of a serious young actress in Hollywood. It put her on Hardwicke's radar, and director Jake Scott's, too. The moment Stewart appeared on screen, Scott says, "I jumped out of my seat and ran into the lobby – I didn't even finish watching the scene. I made a phone call and said, 'She's the one! Find her!' Two days later, Stewart was cast as Mallory, the wounded, underage, foul-mouthed stripper in the heartbreaking exploration of grief Welcome to the Rileys. Following that came The Runaways, in which she portrays Joan Jett, pulling of a no-holds-barred take on the legend who loves drugs, women, and rock 'n' roll. "It was a tough one," Stewart says of making the film. "But I love Joan. I'd jump off buildings for her, splatter on the ground."

The extreme loyalty and passion she has for all her characters extends to the scripts. "We worked every day rewriting, trying to make it more real," Hardwicke says. "Kristen's an intense person – she's a searcher for the truth in a scene, in reality. Even if we were supposed to start shooting and there was an entire crew of a hundred people standing around, if she didn't feel something, we would step aside and find a way to make the lines better, make the emotion feel real. And it shows. She's compelling in every scene."

Scott went so far as to let Stewart just wing it. "I enjoyed that she went 'off book' a lot," he says. "Because she does, you know? She would get the gist of it, the essence, the important point, and do it in her own way. I'd stick her in the scene, and she'd do something interesting." While "every take was different, which was tricky in the edit room, the character she was playing was so erratic, it worked."

It speaks to her talent that Kristen is given so much latitude. She learned to assert herself while working with William Hurt in 2008's The Yellow Hankerchief. "He was the first guy I ever saw take a script and fucking turn it on its head. He threw us all up into the air," Stewart says fondly. "It was so cool working with him. He is so beat – he's like, On the Road. Incredibly intense. Dude!" You have that sense that Stewart has first dibs on projects – she seems peerless at this point. (It's hard to believe Lindsay Lohan is just three years older.) "The thing that makes Kristen so interesting to watch is that she's willing to play a character who has moments of unsympathetic behavior and commit to it – not undercut it for the sake of vanity, like some actors," says Greg Mottola, who cast Stewart in Adventureland as Em, the confused, conflicted teen two-timing with super cute Jesse Eisenberg and married cad Ryan Reynolds. "Kristen's not interested in putting out some 'please me love' vibe."

Drifting over to the graphic novel section, Stewart gasps at seeing Black Hole.

"This fucking store is like kismet!" she says. "I want to do this movie!" The book, about a sexually transmitted plague, "is disgusting, so gross," Stewart enthuses. "I love the first image" – she turns to a completely black page with a white vagina-shape opening in the center – "a slit. You just grow, like, holes in your body. The imagery is so weird. See" – she flips to another page – "he's looking at her hand and soon there's gonna be a little mouth in there. It's so sexual the desire is so fucking palpable, but it feels so dirty, like [the characters] are so ashamed because they're diseased, they're literally getting these holes."

Is it any surprise that Stewart's next project is inspired by Grimms' fairy tale? In this month's Snow White and the Huntsman, Stewart plays the titular character possessing "skin white as snow, lips red as white, hair black as ebony…" but that's as much as she has in common with the classic. That and the fact that the evil queen wants to eat her heart out. Promising to go fetch it, the Huntsman reneges, sides with Snow White, and turns her into a warrior princess. "She's not a damsel in distress relying on the handsome prince to save her," says director Rupert Sanders. "She's someone who bonds with the men together to reclaim the kingdom. And Kristen was exactly what she personified: tough, independent, resilient."

Chris Hemsworth, who plays the hunky huntsman, recalls a day in the midst of shooting a key moment when "halfway through it, Kristen said, 'No, this is a disaster, this is shit, this is not working. Oh, fuck, we're missing something! We're missing something.' The lines we had weren't hitting it. Thankfully, she voiced it. So Rupert let us improvise. And the whole scene took a life of its own. It was like, wow, she's onto something."

Despite being terrified of horses, Stewart saddled up to lead an army of 250 mounted men charging down a beach in the rain. "I hated it," she admits of riding. "I didn't take to the whole mentality of fucking ordering that thing around – 'Go now!' You have to be an asshole, basically. Not to say that horse people are assholes to their horses. But you have to basically tell that thing who's boss, and I didn't want to do that. I was like, 'No, do your thing. I don't even want to be up here.'"

"Let's find Bukowskit. I love his poetry." Stewart heads off, her voice trailing behind her. "You should read his Ham on Rye. It's autobiographical from his first memory sitting under a table, poking at people's shoes. It's like, so visceral. And so in a kid's head. It's firsthand, second-nature writing. It literally just falls out of him." Her own first memory is of her mother, Jules, a script supervisor, coming home from work late at night. "I would stay up and wait for her. I wasn't even big enough to hug her yet. I would just run and wrap myself around her leg, which felt like a tree trunk because I was so tiny. And she'd bring craft service and stuff – I love going through her bag. There was such a partifcular smell. That's a real sensory memory for me. I was always wondering, like, Where were you today? I know that's why I've always been like, Wow! Movies!"

Growing up in the Valley, the daughter of two "eccentric, weird, hippie parents" (her father, John, is a stage manager), Stewart had the kind of secure childhood that's rare among young stars. Discovered at age nine singing in a school play, she was cast in small films and then, at 10, in David Fincher's Panic Room, as Jodie Foster's diabetic daughter. One role begot the next, and from seventh grade on Stewart was homeschooled, something she regrets, in a way. "Because I didn't go to fucking school, I feel I would have had a bit something extra if I had," she says. "Maybe because my life is so perfect, when I see the other side of life, it just seems like, almost like I want…" Stewart struggles for words. "You can learn so much from bad things. I feel boring. I feel like, Why is everything so easy for me? I can't wait for something crazy to fucking happen to me. Just life. I want someone to fuck me over! Do you know what I mean?" That which doesn't kill you makes you stronger? "Exactly. It's one of the reasons I want to act. I love living in different worlds, because a lot of times mine is pretty nice and easy." Asked which character in literature she'd most like to play, she picks East of Eden's Cathy, the murderous mother who abandons her twins to run a brothel. As Stewart puts it, "She's a psychopathic, evil c–t! I haven't done that yet." And how much fun would that be?

A determined-looking clerk with a boatload of book approaches. "May I offer suggestions?" the woman asks without hesitation. "Have you ever read Jean Genet's Our Lady of the Flowers?" She hands it over. "He wrote it in prison on brown paper that he used to go to the bathroom with. They burned it, and he rewrote it from memory. It's so passionate…This is a young poet who lives in Portland," she says, laying another one on her. "He's a surrealist poet, but like, really sincere about it. He's actually traveling right now with a puppetry troupe. I'll read the first poem to you…" Meanwhile back at the ranch… "This guy is the Persian Dostoevsky… Y: The Last Man is a graphic novel that is really a graphic novel. It's about a disease wiping out all of the men in the world except one man and a monkey. This is my favorite writer, Aleksandar Hemon. His Bosnian immigrant fiction is imbued with a sense of helplessness and loss…"

"All of this shit sounds really good," Stewart says, taking on the load. "Okay, I think we're ready to bounce."

By the checkout line is a stack of new releases. Among them, Jack Kerouac's lost first novel, On the Road in which she plays the sexually game Marylou. Like the famous writer, "Kristen's someone who marches to the beat of her own drum, and I appreciate that," says co-star Kirsten Dunst. "On the Road is a big step for her; after being so widely known as someone who was in the Twilight films, it's going to be the perfect stepping stone to her adult career, almost like Virgin Suicides was for me." Interestingly enough, On the Road director Walter Salles cites his favorite Stewart moment in the film as one in which the actress has absolutely nothing to say. Her heart broken, Marylou listens to a song playing on the radio. "The camera was on Kristen all the time, catching the transformation of her feeling all these feelings," Salles remembers. "It was so utterly moving."

As the cashier rings up the stack, a woman pats Stewart on the shoulder. "Excuse me," she says, pulling a chubby girl toward the actress. "Do you mind if I take your picture with my daughter? Her sister is at home and she's a huge fan and she'll kill me if I don't." Stewart smiles and puts an arm around the child, who looks confused. Flash! Mother: "Thank you!" Stewart: "No problem." Child: "Who is that?" Mother: "Shh! She's in those Twilight movies."

"We were so close, we almost got away," Stewart says of being recognized. She unlocks a nondescript rental car (she can't drive her Mini Cooper without being followed by paparazzi), drops the books in back, slides into the driver's seat, starts the engine and offers up a Camel. Pushing the cigarette-lighter button, she says, laughing, "I went for the high-class rental. This car's got all the fixin's!"

Scattered on the passenger side floor are a pair of plaid Van sneakers, an empty protein drink, a Coca-Cola can, and a plastic to-go container with a half eaten sandwich covered in mold. A nearly empty Snapple sits in the cup holder, cigarette buds floating in it.

Stewart taps her hands on the steering wheel, her short nails lacquered in bloodred. On her thumb is a silver spoon ring. "All four of my brothers and my mom and dad have these," she says. "My mom went and got them for Christmas." And the gold ring circling her index finger? "Everyone wants to know," Stewart says slyly. She shakes her head. "Everyone knows already – it's ridiculous." As painful as it is to be so publicly pushed and prodded, how does she square wanting to be projected on a 40-foot screen? "Laurence Olivier was asked, 'Actors, what's the impulse? Why?' And he was just like, 'Look at me, look at me, look at me, …' That was his answer. But at the same time, it's like, 'Nooo, don't look at me. Look at some version that I'm going to present to you. Let me control it."

As opposed to being controlled. "That's what I like about Kristen," says Charize Theron, her Snow White co-star. "All that fame and all that spotlight stuff is not her life. Her privacy is not going to be up for grabs. But man, because of that she's going to be okay. She's one of the few who will have a very long, steady, amazing career."

Stewart yells at the honker. "I didn't realize you were turning because your fucking blinker wasn't on!" Luckily, all the windows are up. He can't hear her, or, more importantly, see exactly who she is. Who really can? She's young, she's famous – she's still figuring it out herself.



[Source 1 & Source 2]