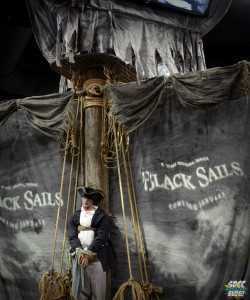 Prepare to set sail with the cast of Black Sails at San Diego Comic-Con 2014, as they are slated to make an appearance at a live broadcast event during the Marked Men Party aboard the HMS Surprise, revealed earlier today in a Facebook post on the Combat Radio page:

'PREPARE TO REPEL BOARDERS…….!'

Combat Radio

along with some of the cast of 'BLACK SAILS' will be making a special 'L-I-V-E' broadcast appearance from the 'MARKED MEN PARTY' on the decks of the H.M.S. Surprise (used in 'The Pirates Of The Caribbean' and 'Master And Commander') during San Diego Comic Con! Friday night 7.25.14….!
I can't wait - I love this show!
Read more at source