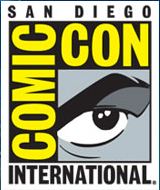 Comic-Con kicks off this week, and if you are one of the majority of people who are not attending, never fear, live coverage, tweets, streaming video, blogs, photos, videos and more.... will be here!

Besides the hundreds of media outlets, fan sites, fans and others who are attending, there is the massive take over of social media that will allow us to feel like we are there, while staying in our PJs watching from home.

Sure, it may not be as glorious as being there, seeing certain people in the flesh, but it's alot cheaper than hotel, airfare and trying to get tickets from the Comic-Con (EPIC FAIL THIS YEAR! - Trust, I tried... but more on that later)

Here is news on what and where to see and hear all the SDCC news as it happens....

First, who is there - - - Twilight Fans

Laura from Twilight Lexicon posted a video of the Comic-Con line so far - Tuesday evening... two days before the panel in Hall H.



Also, Twilight Lexicon, Twifans and others in line have shared some important information for anyone who is planning to "camp-out" for #TWISDCC


Important info for people looking to line up:

Chairs only! No tents allowed.
The lines have been moves under shaded party-type tents
Line is very peaceable and orderly.
Make sure you bring water, temp is good but easy to dehydrate out here.
Be nice to security and they will be nice to you.
Comic Con staff has been very nice and welcoming.

Man, I had planned to go as those who read regularily know, but had an
epic fail
as far as obtaining tickets... [we are talking website failures, waiting in queue for hours of resales, you name it - i tried it... and still came out empty - boo hiss]
But, there is good news - - - I still have stitches in my mouth from wisdom teeth surgery, and would NOT have planned to arrive until Wednesday afternoon, so I guess it worked out that I am not there this year, since I would be in pain and unable to camp TWO DAYS BEFORE HAND!!!
However, I do hope to attend next year, not just if Twilight has a panel (though it seems they would for Part 2 of Breaking Dawn non?) but for True Blood and numerous other "geeky" things I enjoy. Who is joining me and how can we get tickets ASAP?
I will say, this "camping" looks so much better than #WFENYC I mean, my first "camp out" for anything (other than concert tickets, back in the day before internet purchasing and such ha ha man I am dating myself) was such a horrible experience. I think FOX Films did a horrific job. The rain, the lightning, the lack of coverage, the lack of organization, the lies... the only good thing was the pizza. Even the end result was b.s. - a wristband to be caged in across the street... my girlfriend showed up an hour before the red carpet, got to meet Rob before he came over to the "cage" and even ended up with tickets to go inside - which none of the "caged" fans got, even though the FOX Rep said we would... gah! Yes I am still bitter - but at least I can laugh at the whole ordeal and shun FOX everytime I see a trailer for a new movie or show from them! BOO FOX!
Anyhow, moving on, I am thrilled at the set-up for Comic-Con "campers" especially because I know so many friends who are there or will be there.... it feels good to know they will be taken care of :)
Can't wait for tweets, photos, videos and more from SDCC this year!

SO excited for all my girls who are there - wishing them the very best of luck and success in the whole experience.... wooooo!!!
But, if youa re like me and NOT THERE - Don't fear... we will get all the goodness, albeit second hand. With twitter and live blogs and streaming video, I am thrilled that we won't even have to WAIT long to see everything the friends we are envious of for attending get to see...
MTV will have us covered (as will all the fansites and fans who are campingout and attending)
That's right, Twilighters. MTV News is taking over Comic-Con and we're starting with your favorite vampire romance. This Thursday at 6 p.m. ET/3 p.m. PT, we'll kick-off our three-day "MTV News: Comic-Con Takeover" with a "The Twilight Saga: Breaking Dawn—Part 1″ livestream extravaganza, featuring a full hour of interviews and a Q&A with the cast. And, of course, we want your input! Tweet your questions to @MTVNews using the hashtag #MTVSDCC, and a bloodsucker may just chew on your query!


SEE MORE HERE
Also
EW will have a similar live stream
:

EW will have live streaming video from their Comic Con 2011 lounge at The neighboring Hard Rock Hotel.

They will also be covering footage backstage, in the panels, and you can tweet them your questions. Find out how by watching the video on the EW site.

Then there are the usual fansites and fans... I suggest checking twitter #sdcc #twisdcc #twilight #breakingdawn as well as @twifans @twilightlexicon @twicrackaddict @robpattznews @twilightish and the major media outlets too.
BUt next year you can check @mandysmind and here because I MUST GO!!!!
[
Source: Twilight Lexicon