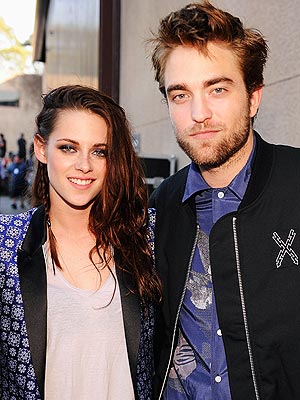 Ever since
the news broke of Kristen Stewart Cheating on Robert Pattinson with Snow White director Rupert Sanders
, fans have been glued to social media and tabloids.
People.com is reporting Robert Pattinson has moved out of the home he shared with Kristen Stewart.
Robert Pattinson has packed his bags.

Following Kristen Stewart's public apology for having a fling with her Snow White and the Huntsman director Rupert Sanders, the 26-year-old actor has left the Los Angeles home he shared with Stewart, PEOPLE has confirmed.

"I'm not sure they'll be able to recover from this," a source says of the couple of three years, who met making the Twilight trilogy.

In seclusion and not in contact with Stewart, 22, the British star "is heartbroken and angry," says the source

Good for him! Regardless of what his future plans are (forgive her, never speak to her again, whatever....) I think separation makes sense. To think, and just... deal with the issue. It also may explain why Kristen's statement was more intimate than we have seen her... If he left and is not talking to her at the moment, maybe it was the only way she could get a message to him?
"Kristen did not tell him about her cheating. Robert was completely blindsided by the news. Robert actually found out about this via his people sometime on Monday when people at US Weekly contacted his people to tell them they were going to run the story."
Hmmm... this story will certainly be in the news for days to come... I hope all involved can figure things out and move on with their lives for the better....

Side Note: I hope Rob starts writing music RIGHT NOW... all, emotional and passionate... who else?